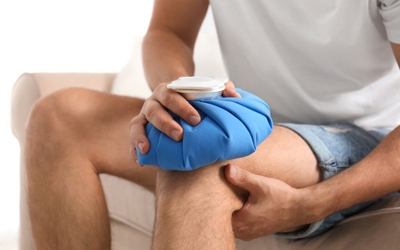 We have often heard that home remedies are the best way to treat minor injuries and wounds. And, believe it or not, ice is the hottest or say the coolest topic in the sports industry. How we treat our pain and injury, all depends on what era and what technologies we have. Further, this leads to confusion about whether the basic and simple treatment with ice is useful or not.
There is a reason as to if the ice should be used as an injury treatment or not. Ice works as the best and the greatest analgesic (pain numbing agent) by cooling down the skin's treatment. But, the impact on the muscle beneath it does not feel any effect. This is because the muscles do not get impacted by the topical application.
Anecdotal, people have reported that ice improves the injuries and makes the person "feel better". For decades we have been using the RICE guidelines for treating injuries like ankle sprains, or other minor injuries. But, infact, recent studies show that instead of taking care of the healing of the injury, it only gets delayed. So, in short, it does not help as we expect.
When we get hurt, our body starts sending signals to the brain to start the healing process of the wound. The body starts releasing the inflammation-treating hormones that help in healing. The cells start by killing the tissues that are damaged. And, using ice causes the dampening effect that further restricts the production of releasing hormones to treat inflammation.
Therefore, ice should be used in the best way as guided by your physiotherapist. They will guide you for the right treatment and medicines as required. Are you looking for a physiotherapist for your pain or injury? Reach out to the best professional in the city- Bramalea Physio. They have top-rated experts to help with all kinds of physiotherapist needs.