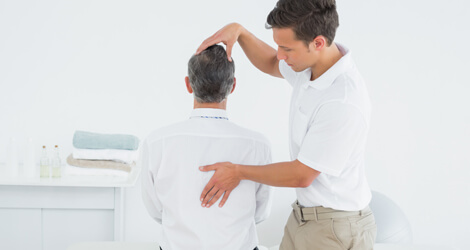 At Bramalea Physiotherapy & Wellness, our Brampton chiropractors employ chiropractic adjustment, therapeutic exercises, and modality equipment to align, strengthen, and improve your musculoskeletal and nervous system. Chiropractic care is a research based treatment that focuses on the musculoskeletal and nervous system.
Your treatment will begin with a thorough chiropractic exam. The goal of this appointment is to assess and diagnose your current condition. This diagnosis will become the basis of the treatment plan, from here our chiropractors will track your progress. At Bramalea Physiotherapy & Wellness, our chiropractors in Brampton are qualified to recommend rehabilitative care, exercises, and lifestyle accommodations to further improve your recovery results.
Chiropractic care uses a non invasive, gentle approach on the affected joints and tissues to increase mobility. Throughout each treatment, we keep you informed and comfortable. We encourage our patients to ask questions. Your comfort, both physical, and emotional is our top priority, which is why we create customized treatment plans based on medical research, evidence based results, and your unique set of symptoms and goals.