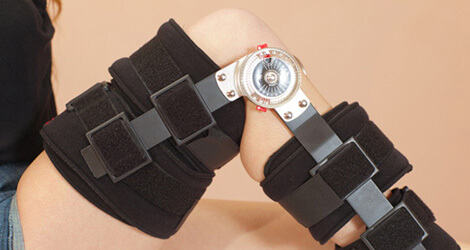 Bramalea Physiotherapy and Wellness provide the combination of stabilization and protection of the knee joint. This truly custom-made brace uses quality hinges with extension stops to glide with the knee and breathable liners coated with bio-inert silicone to reduce migration and skin irritation. Reversible field-serviceable buckles and trimmable straps facilitate fast adjustments and customized fit.Bramalea's custom braces can be further customized with a variety of options, colors, designs and/or accessories.
ACL, MCL, LCL, PCL, rotary and combined instabilities
Vapor model for low to medium impact levels
Standard model for medium to high impact levels
Pro Sport model for highest impact levels
Bramalea offers custom orthopedic devices and a broad range of products for knee injuries (pre or post surgical) that are used for rehabilitation and pain management. Custom fitted knee braces are designed to help speed recovery and protect the injured area. Custom knee braces are highly recommended following surgery to an area.
It is important that you find a brace that suit your needs. Your severity, body type and activity level are all considerations that should be taken in to account when selecting a brace. Feel free to discuss your needs with us.