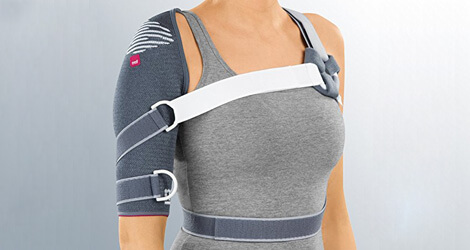 A few of the most common shoulder injuries include strains or sprains, torn rotator cuff, dislocated shoulder or shoulder instability. Shoulder injuries can happen on impact while you're playing sports, have an accidental fall, and even from overuse. If you feel pain in your shoulder, start by resting and immobilizing your shoulder with a brace or sling. A shoulder brace will help give your shoulder extra support while helping minimize the movement while you seek medical advice or begin your recovery.
Bramalea Physiotherapy and Wellness offers a wide range of shoulder supports and braces quicken the healing of shoulder injuries and protect against further damage. Our products aid shoulder rehabilitation in the form of shoulder supports, slings and braces.
Shoulder Immobilizers
Shoulder Slings
Clavicle Supports
Magnetic Shoulder Braces
Pediatric Shoulder Braces
Latex Free Shoulder Braces
Waterproof Shoulder Braces
Pediatric Shoulder Braces
Shoulder Clearance
Shoulder braces restrict lateral rotation and abduction of the shoulder, which together can lead to shoulder dislocation and shoulder subluxation. With adjustable movement control and a customizable fit, this brace is the one for contact sports.
Neoprene shoulder supports and straps are perfect where less support is required. The support and compression enhances proprioception and provides reassurance without restricting shoulder movement. The neoprene also creates therapeutic heat to ease pain and relive muscle spasms around the shoulder. For collar bone injuries such as a fracture or acromioclavicular joint sprains then the universal brace is the ideal immobilisation support to allow the AC joint to heal in the optimal position.
Choose from clavicle supports, shoulder immobilizers or shoulder slings. We have shoulder braces for adults and pediatric patients. Whichever shoulder brace you choose, we make sure it meets all your orthopedic needs.