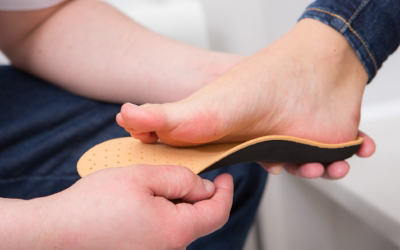 Are you feeling a mild or constant pain in your feet? If yes, you might be in the need of custom orthotics. Since your feet lay the foundation of your body, they are likely to suffer from pain or become tired. Orthotics are an ideal choice for an instant as well as long-term relief. Shoe insoles and custom-made foot orthotics are widely available. They provide the right comfort and support to the feet.
Some of the benefits offered by custom orthotics are:
Enhanced Foot Support
Your feet carry the entire body weight and allows the movement. To make sure your feet don't have to go through pain and discomfort, consider wearing orthotics. The custom designed foot orthotics provide exceptional comfort and support, thereby reducing the risks of pain.
Superior Comfort
In addition to providing support, custom orthotics offer much more comfortable than traditional insoles. The reason being that they are specially crafted to accommodate your unique foot structure. This not only allows better foot movement but also enhances the comfort.
Reduced Pain
Modern shoe inserts or soles are designed and manufactured with additional cushioning and support to ordinary shoes. They are meant to address your specific foot issues and responsible for providing a prolonged relieve from pain, thereby improving its movement.
Improved Performance
Whether you are an athlete or an old age person who is struggling with foot problems, custom manufactured orthotics are the right option you should go with. Only if your body is well-aligned, you'll be able to perform better. Wearing foot and knee orthotics while playing not only protects the joints and muscles but also lowers the risk of injury along with enhancing your performance.No matter, you are young or adult, orthotics are greatly effective in reducing your foot pain or muscle strain. You can enjoy a better sense of balance, comfort and body movement with custom-made orthotics from Bramalea Physiotherapy & Wellness.