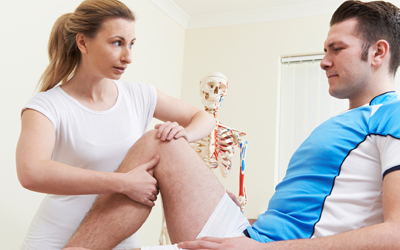 The only possible outcome of being a sports player is the injuries associated with it. And having a sports injury is just not a physical one, but leaves an emotional breakup too as in severe cases, the person might never be able to continue his favorite sport. So, it directly affects the mental health of a person and it becomes very important to recover the sports injury properly and from the right place. Out of all the injuries, the most common sports injuries include- knee injuries, tennis elbow, dislocations, muscle strain, shin splints, and a strained hamstring.
Physiotherapy: A safer option for healing sports injury
While looking for the best alternative to recover your sports injury, nothing can be better than going for physiotherapy. Physiotherapy is a safe therapeutic treatment can help the sports players get back to the field quickly while healing the injury thoroughly and attain optimal performance in their respective sports.
Unlike other therapies, sports physiotherapists' holds immense knowledge and experience specifically of all the sports to help treat the injuries and eve offer some safety measures to the sports players. They can even help you boost your performance and improve your flexibility. Major benefits offered by physiotherapy for treating sports injuries include- minimizes the scope of future sports-related injuries, better mobility restrictions with a set of personalized exercises, attain better athletic performance, and uplifts the ligament and muscle health.
Physiotherapy Techniques to Heal a Sports Injury
Wondering how a physiotherapist helps recover an injury? Well, depending on the respective injury of a person, a certain set of therapy is carried out. The major techniques include:
In order to minimize the stiffness of muscles and joints, physiotherapists usually use range of motion (ROM) exercises. The set of exercises are carried out on the injured area and depending on the severity of the injury, it is decided whether to go for active ROM exercises or passive ROM exercises.
Whenever a person undergoes any sports injury, the muscles become weak and the right set of physiotherapy exercises including dynamic and static activities can help in the muscle strengthening process. Under static exercises, the person is at a stationary position while in dynamic activity, the person performs the activity while moving like running or walking.
To reduce muscle pain and inflammation, low-level laser therapy can help while acting as a replacement for surgery and medications. It is used in mostly musculoskeletal sports injuries.
To prevent swelling in the injured area, the foremost step every physiotherapist will carry out is ice pack application. This will stop the swelling on the injured area instantly.
If you are looking for the right physiotherapist for your sports injury, you can reach us at any time.