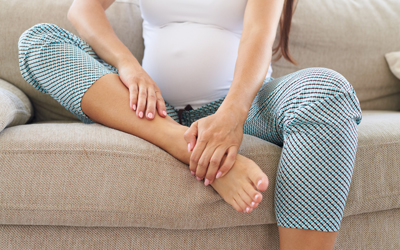 Feet problem are among the common situations that pregnant women face usually. But, no one takes this issue seriously as this is obvious. During this stage, your feet size can change, and you have to find larger size footwear to maintain comfort.
The good thing is there are several things that you can use to treat your swollen feet. Following are the causes, treatment and preventive tips for managing your feet problems during pregnancy.
Feet Problems During Pregnancy
Swollen & Painful Feet are caused by putting extra pressure on feet and fluid builds up. It is advisable to get off your feet and raise your legs. In addition to this, be habitual to wear comfortable shoes. Don't cross your legs as this can impact the circulation and cause other problems.
Arch Pain is also a result of extra weight that leads to flattening of the arch of your foot. This can also put stress on your ligaments and deliver pain. The best way to treat this condition is to wear supportive and comfortable footwear.
Ingrown Toenails can happen if you wear ill-fitting shoes during pregnancy. This is the problem that should not be treated on your own, you must consult with a highly qualified chiropodist.
Regular Care
No doubt, pregnancy is a life-changing experience and to make it comfortable, you have to look after your feet, such as:
If your feet begin to get hot, soaking them in the tub of water with some ice cubes will give you relief.
Make sure to keep your feet moisturized to avoid dry skin and itching.
When you feel, it is difficult to deal with painful feet, visit the local foot care specialist.
At Bramalea Physiotherapy & Wellness, our team of chiropodists in Brampton assess and diagnose your condition and offer a personalized treatment plan like compression stockings, custom orthotics and braces. If you are dealing with foot abnormalities during pregnancy or any other situations, feel free to schedule your appointment with professionals.